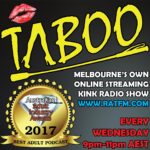 DIRECT DOWNLOAD - Right Click and Save As...
This week join Jimsta, Dani, and Ashley?.... Aaron?.... Andrew?....
Who is it that works the desk again?... as they catch up with author Eva Sless, and get a bit of Sex Ed, from her ground breaking book "A Teen Girls Guide to Getting Off".
The guys talk about what Sex Ed should be, and ideas on where it can go in the future.
We also have for the first time a Weekly Pervertable from our guest themselves!