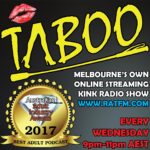 DIRECT DOWNLOAD - Right Click and Save As...
It's an all new year, and the "Sadistic Sub" Jimsta, the "Tasty Tart" Dani, and of course the "Mighty DeskSub" Adam are back, for a new year of kink on Taboo for 2018.
In this new episode the gang talk about their break, and what to expect in the comming weeks as Taboo moves into a new phase, and some exciting new developments.
We touch base with some of our listeners via social media, a new 'online' member of the cast is introduced as a new fixture...... the infamous "Fact Checker", and we introduce the first of a new segment on the show... "The Weekly Pervertable".