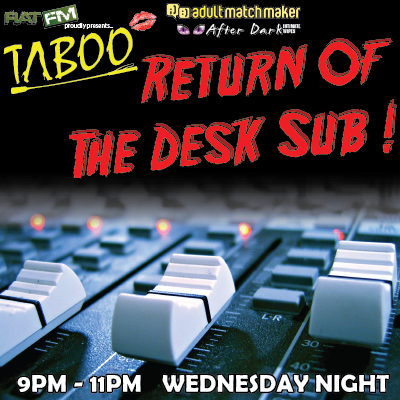 [podlove-episode-web-player publisher="1098" post_id="1098"]
DIRECT DOWNLOAD - Right click and Save As...
The day has come, the most anticipated day for the last 8 weeks as Desk Sub Adam returns to Taboo, and his home of button pushing and knob twiddling.
Regular Taboo host Jimsta once again takes the reigns with "M" filling in for Ms. Di as co-host.
The crew catchup on the events of last week, discuss Adam's breif foray into musical song writing, and performance at a recent wedding, and we touch on upcomming events of Splinter and Snake Pitt.
The crew also talks about Electro Sounding, the horrid abomination that is "glitter", we have a live prize giveaway in air, and we are visited by The General from RatFM's Disaster Zone show, with his take on some newbie views to the kink scene.