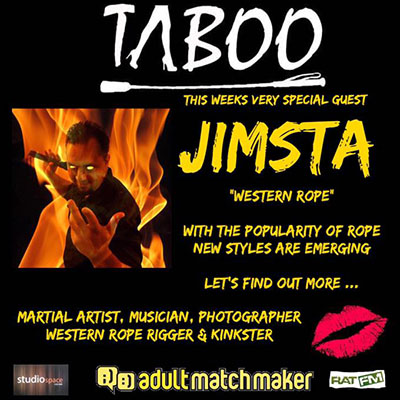 [podlove-episode-web-player publisher="987" post_id="987"]
DIRECT DOWNLOAD - Right click and Save As...
This weeks special guest on Taboo is.... Jimsta?
Wait... what... did we read that right?
We sure did, Jimsta wears the special guest hat this week as we dive into his specialty,
Western Rope. What is it?  How does it differ from other styles?  Does he wear a ten gallon hat?
(Spoiler... it's not that kind of "Western").
We also discuss his Martial Arts, Rope Rigging, & Photography skills in this jam packed episode.
The guys discuss the events of last week, the successful and popular Snake Pit Revisited event, and also touch on upcomming events.
Also special guest desk-operater this week, so while Adam is away for the next few weeks,
Ross steps in to push the buttons, and fiddle with knobs.